Professor Sue Black, OBE, is one of the U.K.'s top computing experts, but it's a position she never thought she'd achieve. Here, the tech evangelist included in the British Airways 100 Modern Britons tells us about beating the odds thanks to an inclusive education system, paying it forward to help other women succeed, and how Britain's pioneering spirit has inspired her "love letter" to the nation
When you meet Professor Sue Black OBE she immediately stands out, thanks to her quiff of cherry-red hair, kooky specs and infectious optimism. But those are not the only interesting aspects of this woman, an atypical British academic at the top of her profession. As Professor of Computer Science and Tech Evangelist at Durham University, Black is working to increase gender diversity among its students and staff. Outside of academia, she's also inspiring more women to work in tech. It's a sector that's long been dominated by men, but Prof. Black is on a mission to change that.
As a people and as a country, we can do more than we realise
Now 57, Black has advocated for women in computing for more than 20 years, and launched Britain's first online network for women in technology.
Work takes her around the globe, giving keynote speeches and motivational talks, building connections and inspiring women to embrace careers in computing. This year, she is also involved in British Airways' centenary celebrations, one of 100 Modern Britons selected for their success, creativity, innovation and pioneering spirit.
"I feel lucky to have been born in Britain, because I've achieved all sorts of things in my life that I never thought were possible when I was in my early twenties. I've made it from being a single mother living in a women's refuge to becoming a professor of computer science," she says. "And today, when I'm giving talks, my message is: If I can do it, so can you.
"A lot of what we're about in the U.K. is inventiveness and problem-solving, but we are still not making the most of the opportunities technology offers. As a people and as a country, we can do more than we realise. For example, I was giving a talk in Glasgow recently and was told about a five-year-old girl who'd come up with the idea for an app that teaches children her own age to get dressed independently. You hear her own voice saying 'Put on your pants,' 'Put on your socks,' and so on, in the right order."
LIFE LESSONS
Prof. Black credits "Britain and the support that exists here" for her two-decade journey from poverty, through the adult education system, to achieving prestige in a profession that still holds deeply ingrained misogynistic attitudes.
Black grew up in Hampshire, Hertfordshire and Essex – London's home counties – but has a vivid memory of visiting the capital when she was five, where the red buses had a striking impact and made her want to live there. "I thought, 'What better job could there be than driving a big red bus around London?'"
At age 16, four years after her mother died, Black left both school and home, "because of family problems" that included both emotional and physical abuse. A local Job Centre helped get her a job in London working with child refugees from Vietnam. This was followed by a stint in nursing — to which she admits she was ill-suited — then accounting work at a record company, where she was much happier. Black met her first husband during this period, and they married when she was 20, establishing a stability that had been missing from her life for a long time.
Marriage was followed quickly by parenthood. "By the time I was 23, we had a daughter and twin boys," she explains. "But a year later, my marriage broke down." While she loved being a mother, Black had ambitions for a future career and took up part-time education to boost her qualifications and better her chances. Her husband, however, grew angry about the time she spent studying. "He became violent and, ultimately, threatened to kill us all," she says. "One morning at 6 a.m. I ran away from home with my kids and ended up in a women's refuge in south London, where we lived for six months."
Black moved into a small rented flat with her family and at age 25, once the children were in school and playgroup all day, found time to join a local part-time course in advanced mathematics, which was always her favourite school subject: "When I was five or six I used to save up my pocket money and buy maths textbooks from the newsagents," she recalls. After coming joint-top with the only other woman on that course, she applied to study for a degree in computing at South Bank University.
"In the final year, my project supervisor asked if I'd like to do a Ph.D. and I said I'd love to, even though I didn't know what it was at the time," she says.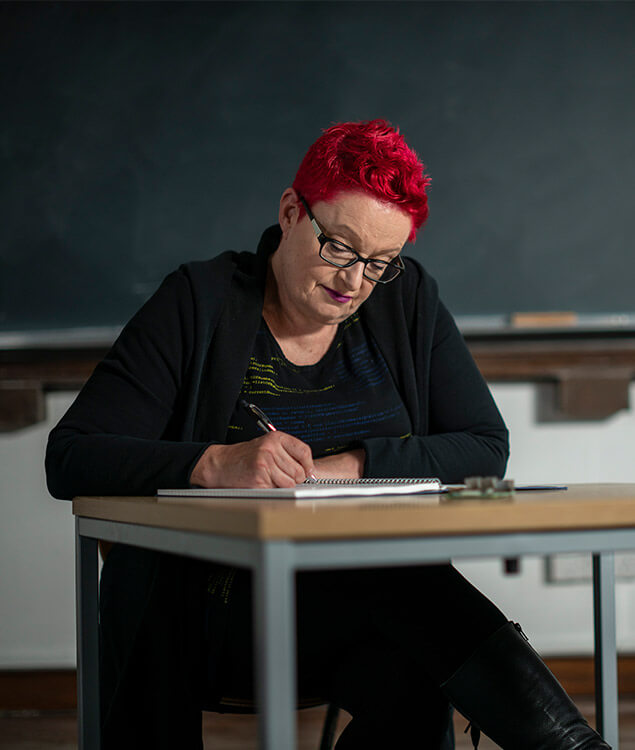 Prof. Sue Black at Durham University, where she is Professor of Computer Science and Tech Evangelist.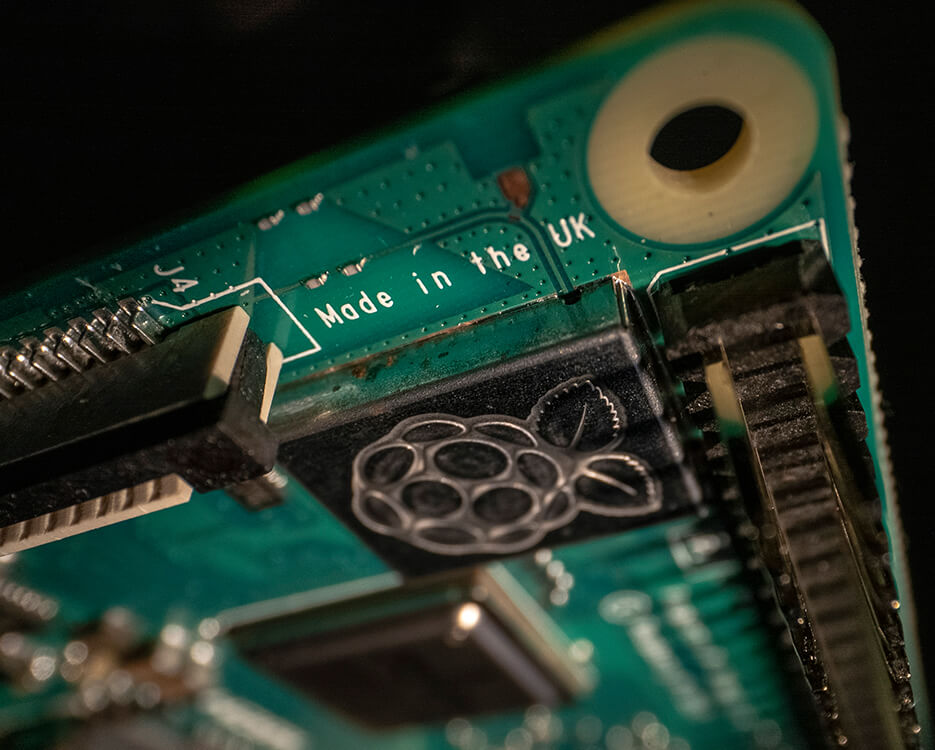 The Raspberry Pi computer board is one of Black's favourite British tech innovations.
THE RIPPLE EFFECT
Having earned a doctorate in software engineering in 2001, Black went on to study big software systems and the effect that making a change to one tiny bit among 20 million lines of code can have on the whole thing. "It's called 'the ripple effect'," she explains, and it could be said that her work as a tech evangelist is creating a ripple effect of its own, thanks to a significant step she took back in 1998.
At that time, one aspect of Black's research career really wasn't succeeding: "Colleagues told me I should be networking, particularly at academic conferences, but those events were more than 80% male back then and I was very shy. Whenever I tried talking to the male delegates about my research, they didn't seem to take me seriously." So she summoned the courage to go alone to a Women in Science conference in Brussels, to see if an all-female delegation would result in a different atmosphere and let her find her voice. "It was a big deal for me, because I wasn't used to travelling on my own."
On arrival at the venue, Black immediately relaxed. "It was such a supportive environment," she says. "There was a real buzz about it; all the women were talking to each other. Those two days changed my life and the way I saw myself. I returned home and set up an online network for women in computing." The ripple effect was underway.
BUILDING COMMUNITIES
The network she launched, in 2001, was BCSWomen (part of the British Computer Society's central London chapter), and what its members wanted most was advice from other women on how to advance their careers in technology.
In researching the right advice to give to those women, Black also continued to learn: "I would look up answers to their questions and, without realising it, put them into practice myself," she says. "For example, when someone asked 'When should I apply for promotion?' the given answer was 'Whenever you can.' So I noted that, applied for promotion whenever I could and it fast-tracked my own career." She got promoted every year or two and became head of her department at the University of Westminster in 2006.
Britain can continue being a place of opportunity for everyone, just as it has been for me
Since then, Black has shared the power of tech education. In 2012 she piloted a nationwide social enterprise, #techmums (relaunched in 2018), which teaches technology skills to mothers, not only to show them what opportunities exist and to build their confidence, but also so they can spread the enthusiasm to their children.
Black married a fellow British computer scientist in 2016 – whose proposal was in encrypted code displayed on his laptop screen – and is now a mother of four, living in a pretty suburb of London.
It's testament to her many accomplishments that, in 2016, Black was awarded the Order of the British Empire for services to technology. "I really try to inspire women to go out and do things for themselves," Prof. Black says. With more women than ever being encouraged to work in the tech industry, she says, "We are at the start of something new. If we can build it — create our own ripple effect — then Britain can continue being a place of opportunity for everyone, just as it has been for me."
To discover more members of the British Airways 100 Modern Britons, visit ba.com/100