When award-winning British chef Michael Caines MBE turned 50 last January, he did what many people do on reaching that milestone: he took stock, looking back on a career that began in the 1980s.
"There are so many things I would like to have achieved when I was younger that I didn't, because I was learning how to do what I do now."
It's hard to imagine what else this Michelin-starred hotelier, chef, businessman, charity patron and occasional TV star thinks he might have achieved. It is in recognition of everything that he has done that he has been chosen to represent Food as part of British Airways' 100 Modern Britons, which celebrates the airline's centenary. The list is made up of people who draw on Britain's rich heritage but also have the pioneering spirit to drive forward their chosen field.
You want spirit and drive? Caines is your man. Born in Exeter, Devon to a black father and a white mother, the latter with parents who "did not like the idea" of a mixed-race baby, he was adopted by a local family at the age of six weeks. This is where the love of food – and Devon – begins.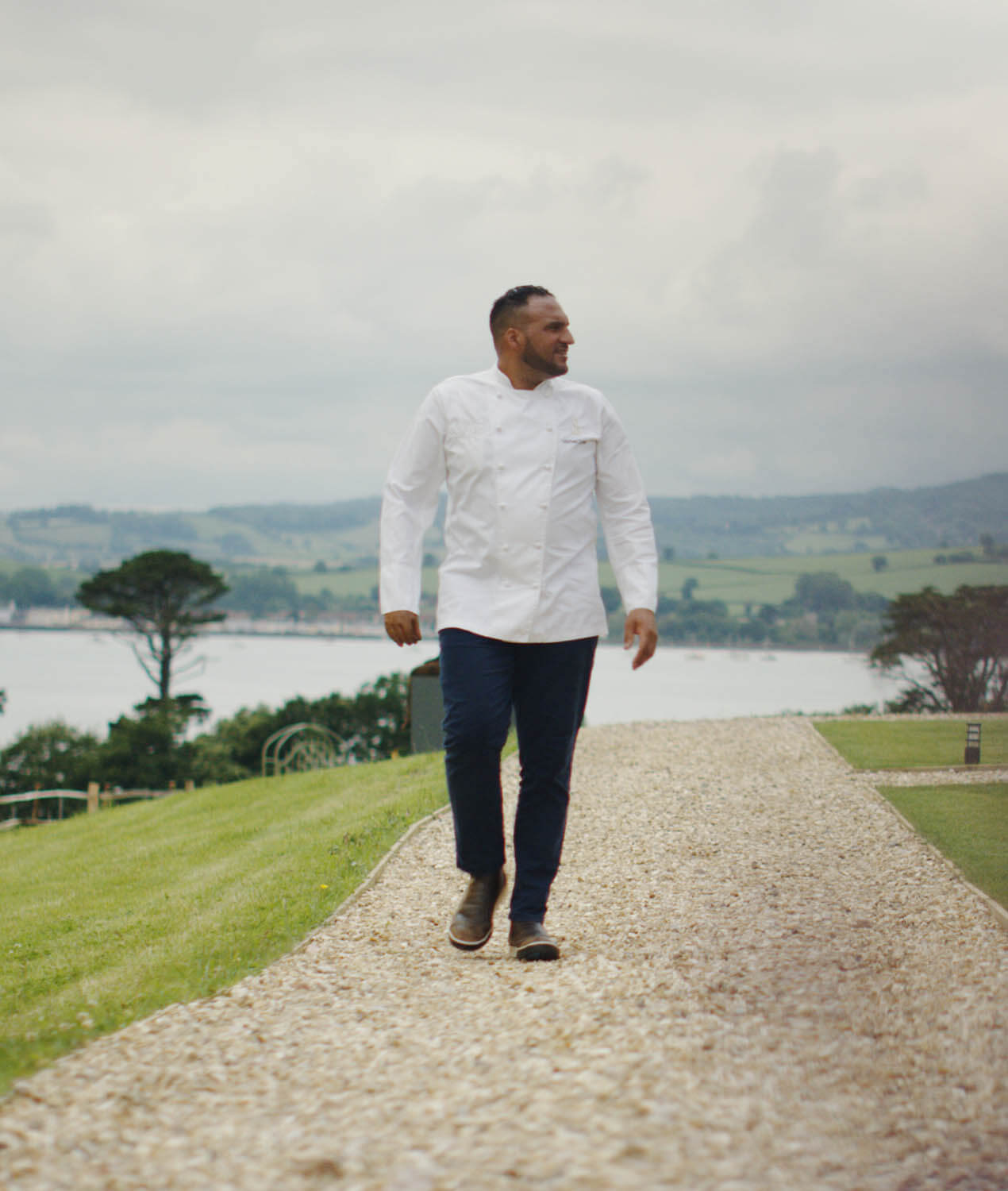 Caines at Lympstone Manor, whose grounds overlook the River Exe estuary in Devon.
A young Michael Caines (third on right) celebrating his sixth birthday.
FAMILY AFFAIR
"It all started by helping my mum in the kitchen," he says. "We had a large garden and we'd help grow produce. We were a big family – there were six kids, so we all had our little jobs to do and we all got pocket money for doing them."
The secret of great cooking, it's often said, is great ingredients. But truly memorable meals are made by the people who eat them and the atmosphere they create.
"All of us have fond memories of coming together as a family around the table, eating great food while looking at the beautiful surroundings," says Caines.
This image from his youth is what he has recreated at Lympstone Manor, which he purchased in 2015. This great old country house is nestled in 28 acres that slope magnificently down to the River Exe estuary.
Caines spent two years restoring it to his own meticulous standards and within six months of opening as a hotel and restaurant, the manor was awarded its first Michelin star. In 2018, Caines supervised the planting of a vineyard in the grounds. Once the vines are grown, he hopes to produce his own sparkling wine.
A COUNTRY HOUSE
Caines fell in love with the idea of a country house establishment during three years working in Oxfordshire for legendary chef Raymond Blanc at Le Manoir aux Quat'Saisons, an experience that made him determined to master the secrets of French cuisine. So he went to France to study under master chefs Bernard Loiseau and Joël Robuchon.
London is an incredible oasis of restaurants from all over the world. There is no parallel to our adoption of multicultural cuisine.
"I felt that working in France might give me a different style," he says. "The mindset about wine and food was remarkable. In England, everyone has an opinion about football but in France it's the quality of the cheese or the fruit or the ham. Food is the national sport, and it's not an elite one."
But Caines is quick to point out the huge changes in the U.K.'s food culture since he started in the business. "Dining out in Britain has developed massively in the past 20 or 30 years. London is an incredible oasis of restaurants from all over the world. There is no parallel to our adoption of multicultural cuisine and we should be so proud of that."
What's more, he says, Britain has become a global centre of knowledge for wine, "because we buy more [per head] from more countries than anywhere else."
By the time he returned to England in 1994, he was ready to put his belief – that food brings us together – to the test, as head chef at Gidleigh Park in his home county of Devon in southwest England. His career was following a path so smooth he might have written the recipe for it himself. Then came the crash.
"Obviously, not a good day at the office," Caines says, matter-of-factly. "I was driving back from an event and fell asleep at the wheel. You think you're invincible, like everybody does at 25. You get used to driving tired and so you turn up the music and wind down the window, thinking that's going to be enough. But, of course, it's not.
"In the motion of the crash I lost my right arm. Fortunately, no one else was injured or killed."
In an instant, everything Caines had devoted his life to was in danger of slipping away. Here's that spirit again; "indomitable" doesn't do him justice.
I didn't want to be 'the one-armed chef' so I turned down the chat shows.
"Within a week I was home," he says. "Within four weeks I was back at work part-time. Within six weeks I was back full-time."
Gidleigh Park had one Michelin star when Caines arrived and, despite the accident, the pressure was on to keep it. For once, the self-effacing Caines allows a little pride to creep into his voice. "I retained a Michelin star within six months of joining Gidleigh Park – so after my accident – and achieved two stars within four years. I held those two stars for 18 years."
AT HOME IN THE KITCHEN
With his reputation established, Caines began branching out, opening his eponymous restaurant at the Bristol Marriott Royal in 2003 and going into partnership with Andrew Brownsword to take over the Royal Clarence Hotel in Exeter, before creating upmarket U.K. hotel chain ABode.
Inevitably, television celebrity also beckoned, although Caines treats the medium warily. "After my accident there was a QED documentary called 'Chef,' which put a big spotlight on me, but my agent advised me not to become a freak show. I didn't want to be 'the one-armed chef' so I turned down the chat shows. I'm more of a media flirt than a tart. My job is to cook in restaurants."
When Caines cut his ties with Gidleigh Park in 2016, the desire to control his own destiny led him to open Lympstone Manor, less than 35 miles away. What is it that's so special about his home county of Devon?
"I came back to Devon to start my own life and family here," Caines says. "I'm a champion of the southwest because it's one of the best larders in Europe. It's like the French notion of terroir but it's also the connection to the landscape, a sense of place. Devon has this amazing mix of pasture and coastal, river and estuary. The superb local produce – and our menus – reflect that."
It also has an amazing champion in Michael Caines. Long may he continue to prosper.
MICHAEL CAINES' STRAWBERRY LOVE LETTER TO BRITAIN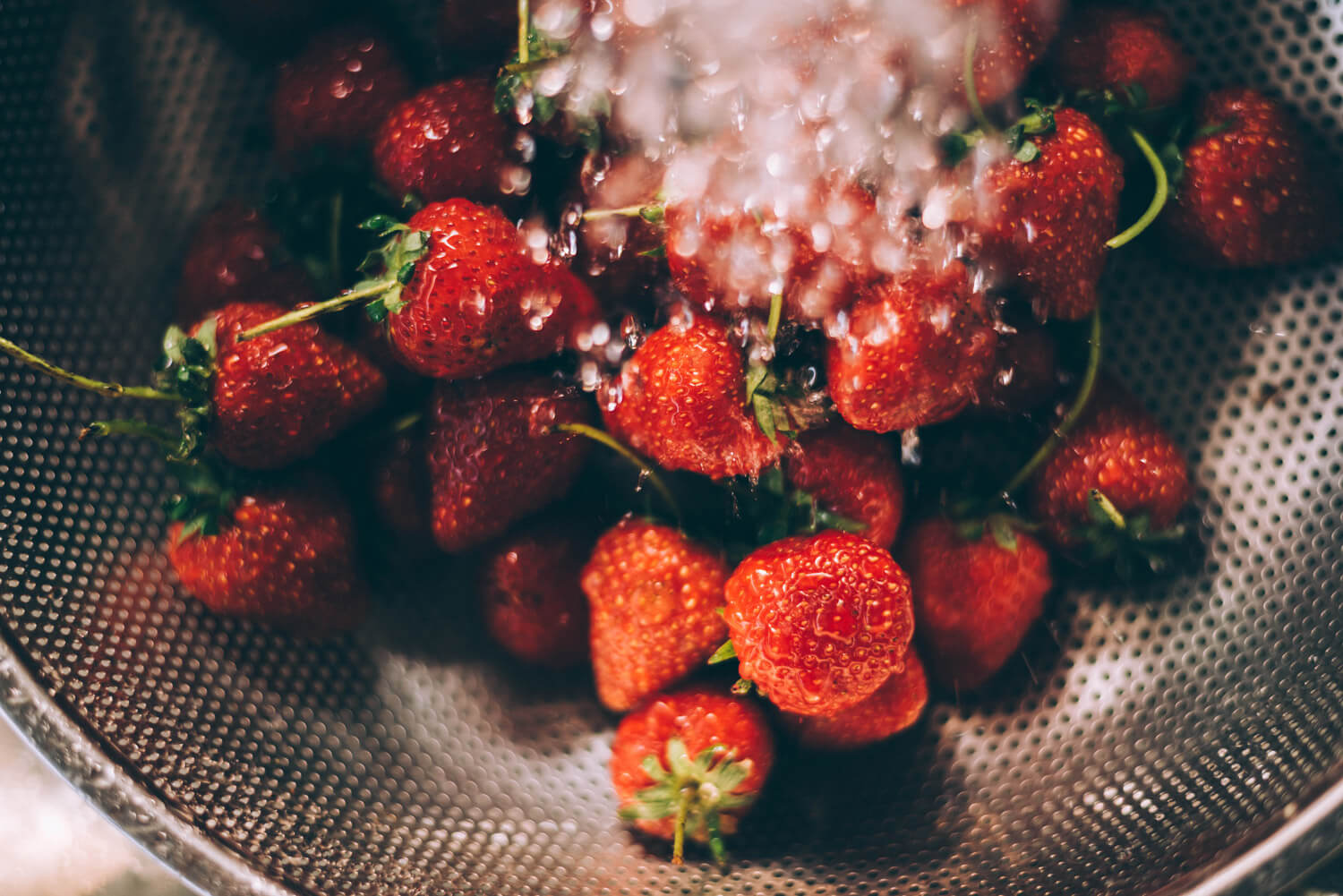 Michael Caines shares one of his favorite British strawberry recipes for you to try while the fruit is in season.
"I chose the strawberry because it connects my childhood to where I am now. When I look back, I remember being young and taking the care to grow strawberries in the garden with my father. I'd bring them in and serve them with pride, knowing that I'd grown them. I'm choosing to make a lovely strawberry dessert dish with lemon curd, pistachio and cream, along with local honey infused with lavender from the garden. The connection to everything we've talked about is intrinsic. The open house; enjoying all that you have, whatever you have. All of that is there in the strawberry."
Marinated strawberries with lemon and pistachio curds, pistachio nuts,
strawberry sorbet and lavender-scented honey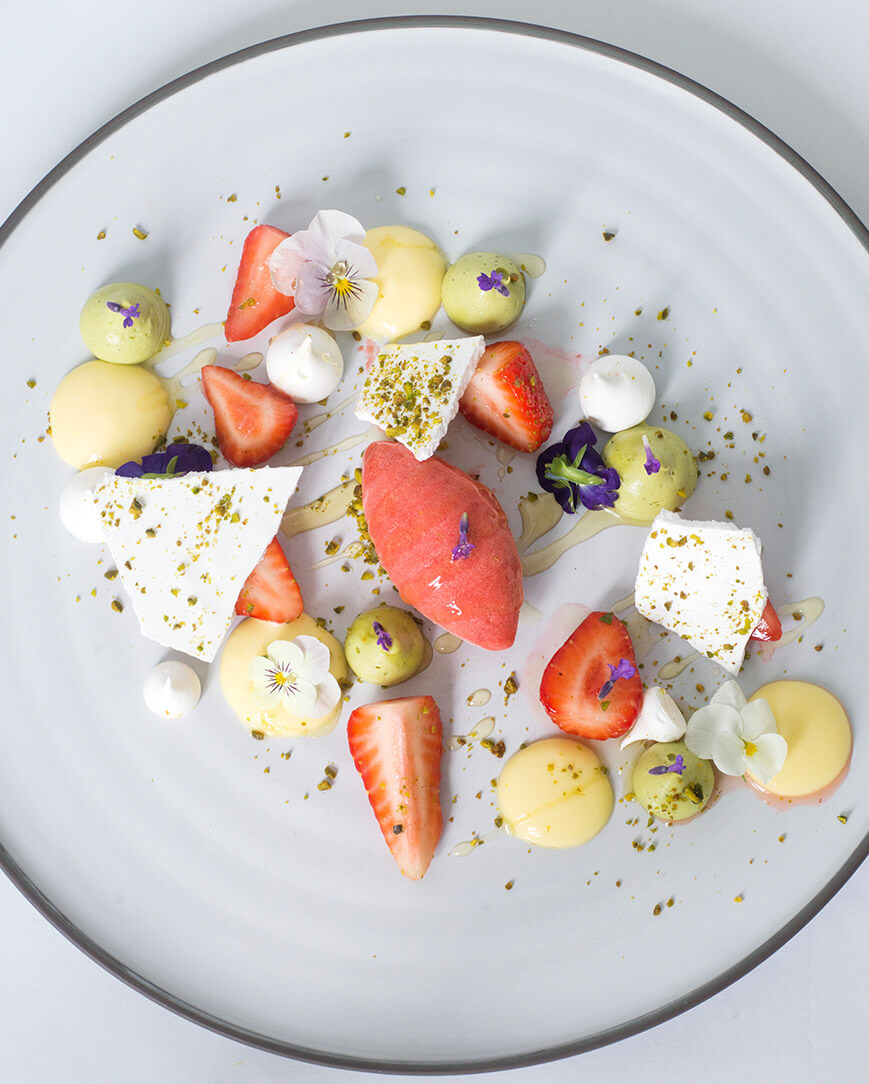 Elements
Strawberry sorbet
Pistachio meringue
Lemon curd (in piping bag)
Pistachio curd (in piping bag)
Lavender-scented honey
240g strawberries
Icing sugar
Pistachio nuts, toasted and chopped
Edible flowers
Ingredients
For the strawberry sorbet
1ltr strawberry fruit pulp
300ml stock syrup (equal amounts water and sugar, brought to the boil)
Juice of lemon
For the pistachio meringue
4 egg whites
120g caster sugar
120g icing sugar
Pistachio nuts, toasted and chopped
For the lemon curd
200g lemon juice
6 egg yolks
3 whole eggs
125g sugar
125g butter
For the pistachio curd
100g caster sugar
6 egg yolks
3 whole eggs
200g milk
150g pistachio paste
200g butter, unsalted
Green food colouring (optional, if paste isn't green)
Method
Strawberry sorbet
Before adding stock syrup, taste strawberry pulp to see if it needs the entire amount. Place into ice-cream/sorbet maker, turn until frozen. Place in container and store in freezer until needed.
Pistachio meringue
Whip egg whites in mixing bowl, then sprinkle in caster sugar. Gently incorporate icing sugar using a spatula. Pipe onto tray lined with parchment paper. Spread thinly using spatula. Sprinkle with chopped, toasted pistachio nuts. Place in pre-heated oven at 100C and cook for 1 hour. Leave to cool, then break into shards.
Lemon curd
Bring lemon juice to the boil in a saucepan. Cream together egg yolks, eggs and sugar. Add 100ml hot lemon juice, whisk together until smooth and add remaining lemon juice. Bring back to boil, whisking all the time until smooth. Remove from heat and place in blender. Add butter progressively, blend until smooth. Pour into pre-baked tart, leave to set or store in plastic container.
Pistachio curd
Cream together egg yolks, whole eggs and caster sugar. Bring milk to the boil, add to eggs, mix well and place in large bowl. Place bowl over pan of boiling water and cover with cling film. Leave to cook through thoroughly, whisking from time to time. Once mixture is cooked out solidly, mix in blender then add pistachio paste, butter, plus green food colouring if needed. Pass through a fine sieve and then place into a container or piping bag, leave to cool.
Lavender-scented honey
Place 300g honey into saucepan with two tablespoons of lavender and bring to boil. Remove from heat, leave to infuse for 5 minutes, strain and place into piping bag.
Marinated strawberries
Remove stalks, wash strawberries in cold water, drain and cut into quarters. Place in bowl and sprinkle with icing sugar. Mix well, leave to stand for 10 minutes.
To dress
Place 7-9 strawberries on plate. Pipe 5 differently sized dots of lemon curd onto plate, repeat using pistachio curd. Sprinkle chopped pistachio nuts around garnishes. Add three shards of meringue. Quenelle strawberry sorbet and place in middle of the plate. Pipe honey over garnishes and finish with a few flowers.
To discover more members of the British Airways 100 Modern Britons, visit ba.com/100