A love of English stately homes and knitting doesn't usually mark someone out as an avant-garde trailblazer, but they're twin passions of British fashion's most exciting new star, Matty Bovan
Matty Bovan has been given permission to clamber on to a giant oak dining table at Elizabethan stately home Burton Agnes Hall in order to adopt the perfect pose for the waiting photographer, but he still looks nervous as the ancient timbers creak under his slender six-foot-three-inch frame.
Dressed in one of his signature Edwardian-style shirts in an enlarged Liberty print, along with neon-pink skirt, orange neoprene boots and knee-length Argyle-patterned socks, the 29-year-old British fashion designer, hailed by international critics as "fashion's great bright hope," is completely at ease in these splendid surroundings.
It was Bovan's idea to use this historic house in the gentle countryside of East Yorkshire, an hour's drive from his home city of York, U.K., for the location shoot. It encompasses his love for the British heritage, arts and crafts that partly inspired his independent fashion label—another big influence is his lifelong love of sci-fi—and led to him being named one of British Airways' 100 Modern Britons. He was chosen to represent Fashion as the airline marks its centenary by celebrating 100 remarkable people making waves in their chosen field.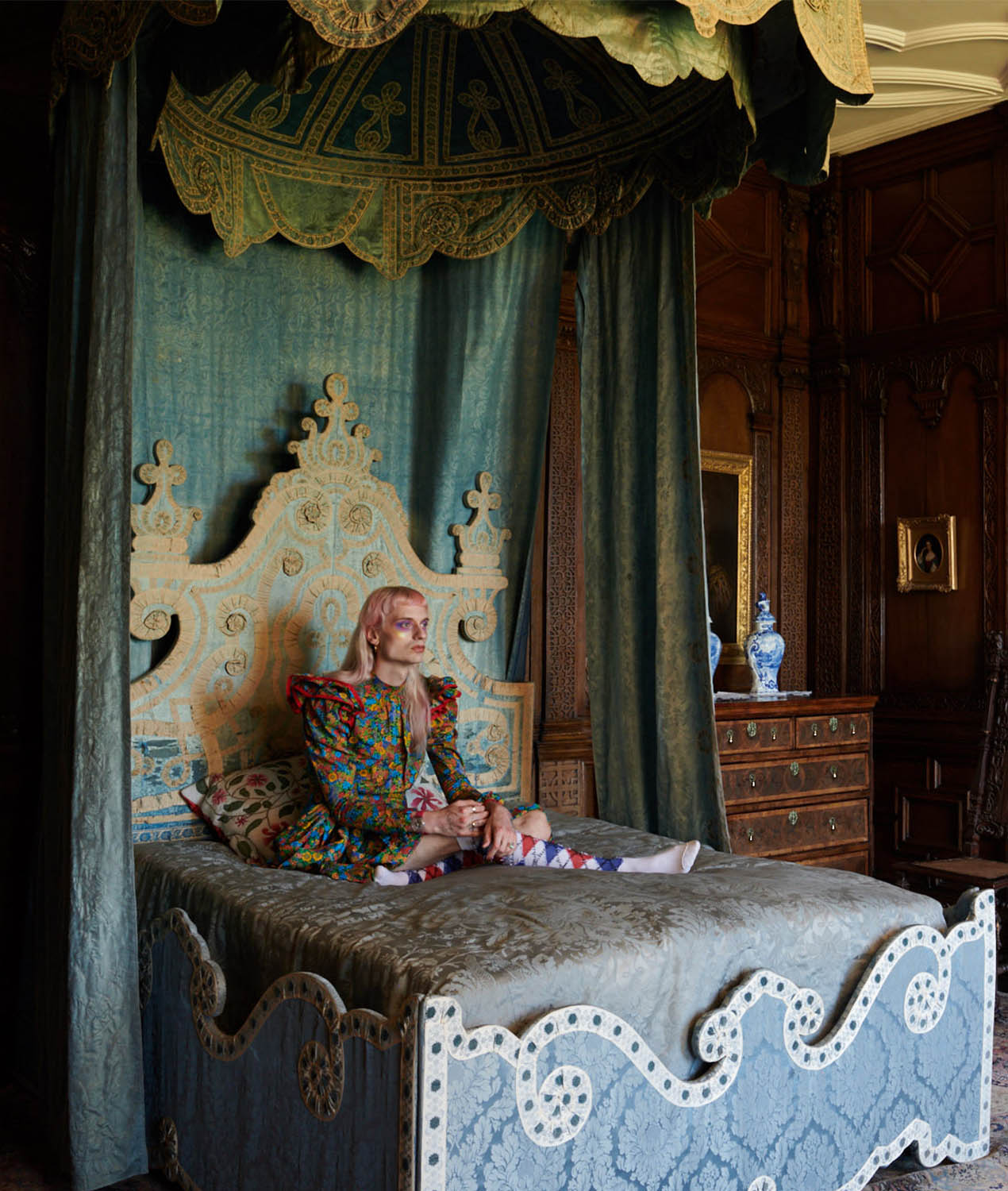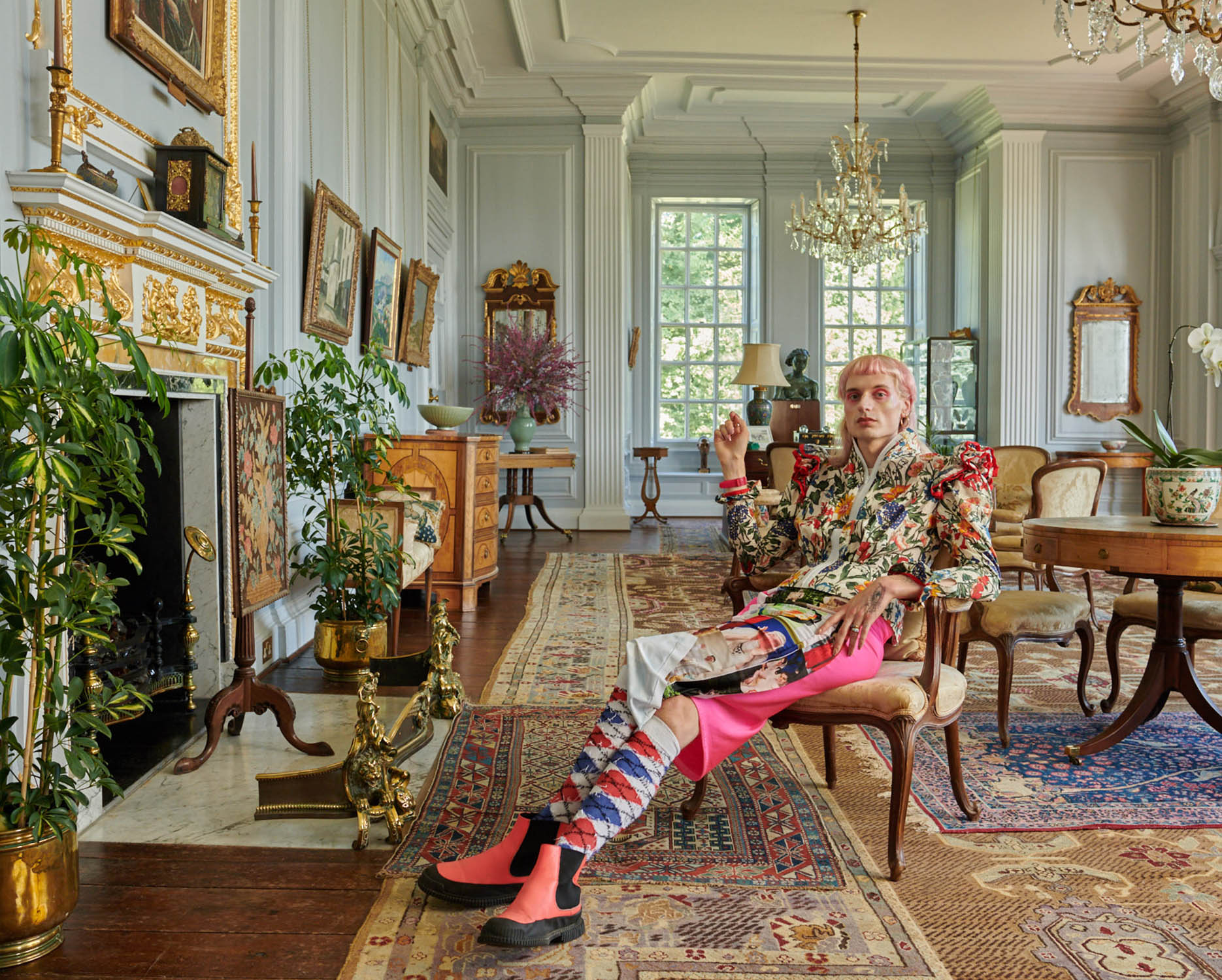 REBEL, REBEL
Somehow, the 17th-century setting provides the perfect backdrop for Bovan's complex, unpredictable aesthetic, which is shaking up the British fashion scene right now with its joyful rebelliousness. In between sips at endless cups of tea, he tilts his chin and adjusts his gaze on request, mauve eyeshadow and gold-sheened cheekbones catching the light as he sweeps his pink hair off his shoulders.
Multi-skilled and hard-working, Bovan is designer, maker and ambassador for his own brand. As well as modelling in today's shoot he's also dressing mannequins for it in outfits from his most recent, English-inspired collection of multi-layered, multi-patterned bodices, padded skirts and crinolines.
His androgynous, other-worldly style was quickly noticed by industry luminaries. Graduating from London's Central Saint Martins art school in 2015 with an MA in Fashion Knitwear, Bovan scooped the LVMH Graduate Prize that included a year's placement at Louis Vuitton in Paris. His wild, multi-textured creations caught the eye of influential British stylist and LOVE magazine editor Katie Grand, who invited him to research prints for Marc Jacobs and work with Miu Miu, the label owned by Miuccia Prada. He has collaborated with luxury accessories brand Coach on a collection of bags decorated with pearls, paint and sparkle.

FAMOUS NAMES
One of his proudest moments, the designer says, was getting a call from Björk's stylist—the singer has been one of his heroes since childhood. He has made an outfit for pop star Rita Ora, and his designs have been worn by actress Noomi Rapace, while his shows feature top British models including Adwoa Aboah.
When asked whom he seeks to emulate in a fashion world eager for its next star, he spells out his desire to carve a new path—and he already is, defying the London-centric British fashion scene by deciding to return to York after graduating to set up his own studio.
"I'm a huge fan of London, I love it, but I don't know how people afford to stay there," he says. "We still work with people in London all the time, but for me, designing is quite a private process and being here lets me be very heavily involved with it and stay in control."
I don't want to be like everyone else, I never have.
York is where, as a boy, Bovan learnt to enjoy knitting and other crafts with his immaculately styled grandmother Joan—a former headteacher—and where his "very supportive" parents Nick and Plum still live.
Meanwhile he's exploring new ways of selling, launching an e-commerce arm on his own digital platform, alongside the latest of his limited-edition zines. London Fashion Week is the next big event on his calendar, although the inspiration for his Spring/Summer 2020 collection is still under wraps for now: "Next season will be different," he promises, "there will still be a hint of me but I have to push myself, otherwise there's no point."